WARREN ELLIS LTD Articles.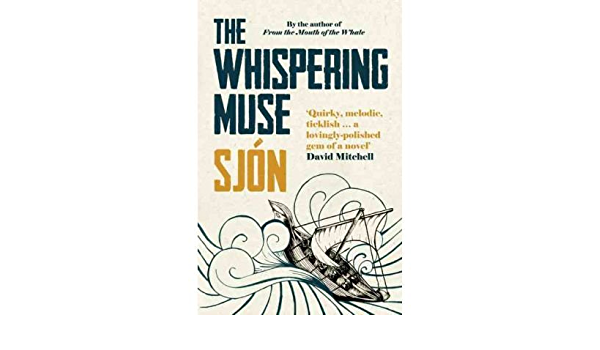 I noticed last month that I have a few different Sjon books in the pile. Apparently I started reading this and didn't finish it. So I started again at the beginning.
Before embarking on his tales the mate had the habit of drawing a rotten chip of wood from his pocket and holding it to his right ear like a telephone receiver. He would listen to the chip for a minute or two, closing his eyes as if asleep, while under his eyelids his pupils quivered to and fro.
THE WHISPERING MUSE is a story about storytelling: about myth and legend, fish and culture.
To try and describe the affect, I'm going to be basic and crass and do an injustice to the work, but: tonally, it has the archness, historicity, unreliability and louche, slightly evil air of THE GRAND BUDAPEST HOTEL. Completely unfair, but maybe you can see where I'm leading you here.
"I was thinking: could the voice you detect in the humming of the wood be your own voice? Like the poet who obstinately believes that he is writing about the world but is in reality only telling yet another story about himself?' The idea was not entirely my own. My brother-in-law, the psychiatrist Dr Pázmány, had said something similar when the invisible people moved in with me during the winter of 1910–11."
The extremely dubious narrator is the publisher and principal author of the journal Fisk Og Kultur, which presents a faintly Aryan argument that the Nordic race is the superior race because they eat lots of fish. The story revolves around the narrator, in his old age, being sent on a sea trip by his patron, a local shipping magnate – and the ship's first mate, who, every night, tells in chapters a tale of Jason and the Argonauts. He tells this story after listening to a splinter of wood, which he insists is a piece of the Argo's bow – and that he himself sailed on the Argo with Jason. The myth is the spine of the piece, weaving in and out of the man's life and experiences on the boat. Myth rises like a tide and laps over events. Sometimes it washes away dissembling and reveals true character. The ending is unexpected and stunning. And funny. And, in the aftermath, unsettling. It's a more complex book than it seems.
I've read Sjon before, but this book convinced me that I haven't read enough.
THE WHISPERING MUSE, Sjon, trans. Victoria Cribb (learn more)
Good morning computer. I spent yesterday trying to fix my newsletter – you can once again subscribe at http://orbitaloperations.com – and the other sick chicken passed in her sleep overnight, so today is about digging a very big hole under very high heat. But:
Today is going to be a waiting day, for many reasons. I have to be at the computer for much of the waiting, and therefore I've been farting around making little category logos and thinking about how to progress things here in between slogging through DNS bullshit.
After the newsletter passed 20,000 subscribers, it started taking up a lot of personal mindshare. To the point where I consider my work to break into three parts now – the writing, the newsletter and this site. As my main practise is entering a more intensive phase, I'm trying to erase friction points on the other two. Unfortunately, that requires doing the hard work up front in order to have the easy work later.
I've actually solved most of the friction points with LTD, and I'm hoping I'll have the issues with the newsletter sorted by tomorrow, because as it stands, producing the newsletter is taking six times as long as it used to. If this doesn't work, I will just quit or default to a free service I'll use just for announcements. It's a ridiculous thing to have to think about. It's ridiculous how much harder it's got to use the basic tools to speak in complete sentences digitally.
I am supposed to be writing, but instead I am dealing with emails and exporting my newsletter data after a shock bill and reviewing deal memo details and all the things that get in the way of thinking.
Via the Recomendo newsletter, I saw this list of "decision razors."
Generalizing the rule, if forced to choose between two options of seemingly equal merit, choose the one that doesn't look the part. The one who doesn't look the part has had to overcome much more to achieve its status than the one who fit in perfectly.
Yes, well. Not always true. But:
If you're struggling to understand something, try writing it out.

When you write, you expose the gaps that exist in your logic and thinking. Study to fill the gaps.
This is something I do all the time. Often, I do it here. I have a tendency to wait on decision making, because the weather around a decision is changing all the time. Sometimes, I need to write it out, to see if all the elements of the decision have been set already. I need to convince myself that a shift in the weather isn't going to change the conditions on the ground. It's worth a read, if perhaps only to remind yourself of a few tools.
Or: it's not social media, it's just media. This explainer from Cal Newport on Facebook/Instagram feeling the need to pivot towards TikTok's methods makes one thing very clear:
TikTok, by contrast, doesn't depend on …painstakingly accumulated social data. It instead deploys a simple but brutally effective machine learning loop onto the pool of all available videos on its platform. By observing the viewing behavior of individual users, this loop can quickly determine exactly which videos will most engage them; no friends, retweets, shares, or favorites required.
What he describes there is, to my eyes, actually an upgraded TiVo box. If you've ever used a TiVo box, you know this experience – you watch a crime show one time, and two days later it's recorded five other crime shows for you because it thinks you like crime shows now. That isn't social media. That's just media. Clever television.
A fantastic gallery of work by Alexa Hawksworth.
Jose Naranja's sumo notebook art. (I have a whole tournament saved on Tivo right now.)
VERGE, Lidia Yuknavitch
First thing in the morning, when I take out the trash, I see it: syringe on the lawn. Still bloody. It spikes and chills my memory: four long years of youth sliding cold silver glint into waiting blue.
VERGE is a book of short stories by Lidia Yuknavitch, who wrote the fantastic BOOK OF JOAN, told in visceral, flensing language.
Bosch closes his eyes and focuses on this feeling, so he'll remember it when it's gone. For it will be gone, will it not? That is the way of things, that is time, and time is a fucker, and except for this one time in all his life he'd never cared about the boot-sludge drone of time, and suddenly it is everything, isn't it?
These are, generally speaking, stories about sex, drugs and death in America. It tricks you. The first story has a glorious, life-affirming note to it. That note fades. Things get, frankly, more fucked up. You can almost think of it as a mosaic novel, connected by theme rather than character or setting: the dark facets of the world at its private fringes.
I used to wonder who would want to live here, like this, some dried-out town at the edge of the story line, the nightly news, never quite making it into the picture, its people crowding the geography somehow without evolution or design. There is a black-and-red sign over the door of the Texaco. It reads TEXAS, USA. No city. No need. That's the whole deal, stuck up there on a piece of metal the size of a license plate. Like thought stopped for gas and died at the pump.
It took me a while to finish this book. Not all of the stories were successful for me, but the ones that really worked both outnumber those that didn't land and were cold and silver and sharp enough to make me pause for a while afterwards. Not always an easy read, but a rewarding one, with wonderful language. I personally admired this line a lot:
…some people she passed looked at her with a kind of disaffected latte pity.
VERGE, Lidia Yuknavitch (link)