WARREN ELLIS LTD Articles.
While similar art has been found at other ancient settlements in the region, the Sayburç images are unique in that they appear to be related to one another. The two panels are horizontally adjacent, creating a progressing scene. Each features similar images—someone facing off against dangerous animals—also indicating a coherent narrative.

"These figures, engraved together to depict a narrative, are the first known examples of such a holistic scene," said archaeologist Dr. Eylem Özdoğan, from Istanbul University, "This was a picture of the stories that formed the ideology of the people of that period."
I was re-reading the big collection of Eddie Campbell's ALEC stories yesterday – I have a story idea/approach/undefinedthing itching away at the back of my head, and a train of thought ended with the little still grace notes that Eddie achieved in those stories.  So I pulled out the book and spent a pleasant hour re-reading chunks of it.
What I always forget is how that book is a personal time machine for me.  Much of it, you see, is set in my part of the world.  Eddie lived here in the 70s and early 80s – I think he left just as I was entering my mid-teens.  So, when I open an ALEC book, I see my town as it was when I was growing up.  Which isn't an unusual experience with art if you live in, say, New York City, or London, or some other vibrant and picturesque place where serious history happened.  You don't get it much if you lived in a village outside a minor seaside town.
But there's the bus stop on Chichester Road, just as it was, with the number 20 bus to Hullbridge that my friend used to take home. There's Crocs nightclub, which became the Pink Toothbrush, also sometimes known as the Bogbrush.
As much as I revel in the work – and Campbell was a revelation to me when I first discovered his work, back when he was still photocopying his comics! – the thing that makes me sit down and think, in the moments I get to spend with his book, is that rare experience of seeing your own history as art.
THE YEARS HAVE PANTS, Eddie Campbell 
(written July 2016)
Graphic novellas were my favourite thing to write. I only did three original graphic novellas. Amazingly, they all seem to still be in print! Which is what I had hoped for them: the 48-page squarebound format should be a permanent edition.
I love that Ed Brubaker and Sean Phillips did MY HEROES HAVE ALWAYS BEEN JUNKIES as a 72-page edition. Hell, the very first TRANSMETROPOLITAN collection was 72 pages.
Sometimes, we should think in miniatures. A story should only be as long as it needs to be. By which I mean, the story should only be as long as the author thinks it needs to be. Other people will tell you that stories need to be longer. Don't listen to them. Listen to the story.
The form is as close as we get to the European comics "album" – by which I mean a short standardised form. We can do the Euro size, but in the past people would immediately bitch about racking and shelving.
There are things we lost because they were not put into permanent editions, but were instead stapled and sold as standard periodical ephemera.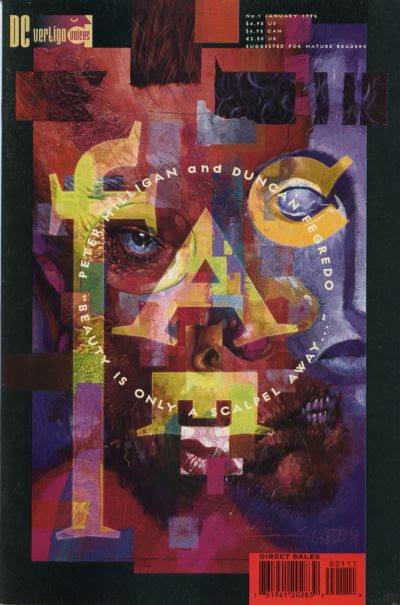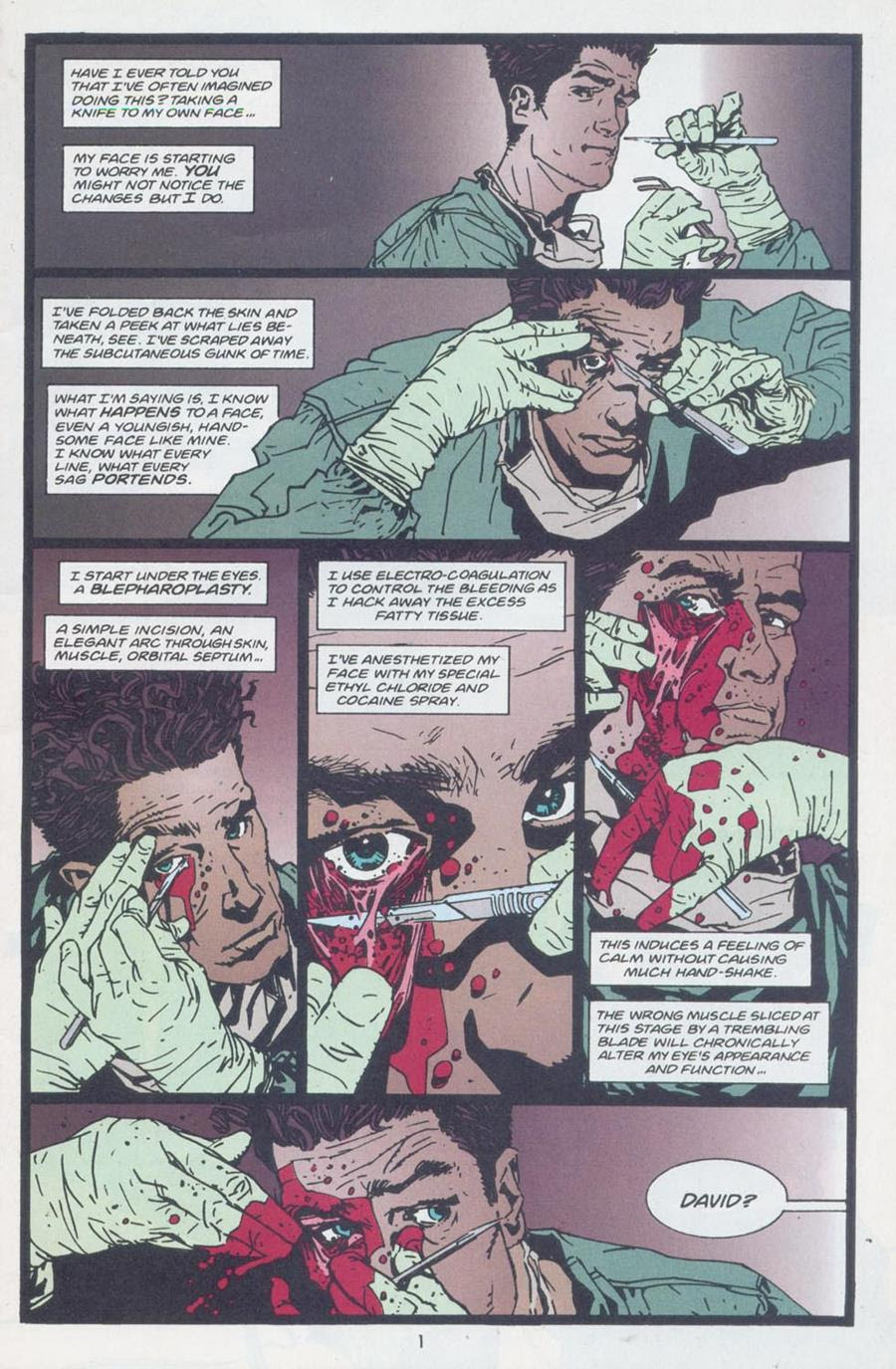 FACE, part of the "Vertigo Voices" sub-imprint, was bunged out saddle-stitched, and was gone a month later. Illustrated by Duncan Fegredo (who is one of the all-time British greats) and written by Peter Milligan in full command of his powers. This book was probably Vertigo's literary-fiction peak. Bookstores could have displayed this next to Don DeLillo and Chuck Palahniuk.
Meanwhile, in Europe: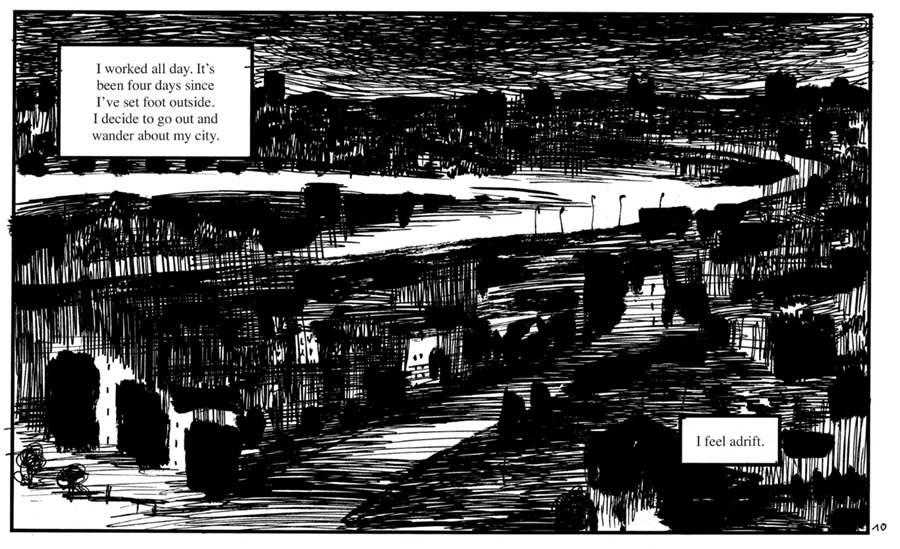 Manu Larcenet's fucking diary comic from 2001, THE ARTIST IN THE FAMILY, is still in print. And I don't mean to dis Manu at all — we hung out for a long weekend in Finland, many years ago, and generally had a great time being terrible to each other and worrying the shit out of our hosts. I really liked him. The book is great. But, you know, there are reasons why I've always looked to Europe as a publishing model.
Okay, hold on, I'm going random now: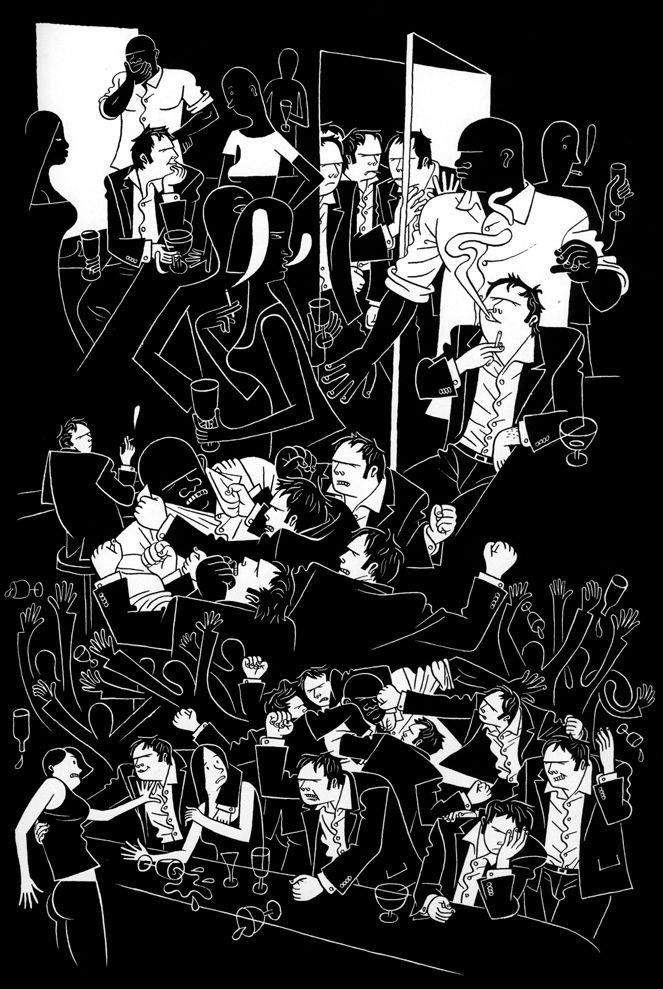 A few years later, in Oslo, I met Killoffer, then the recent creator of 676 APPARITIONS OF KILLOFFER, and just look at that fucking page.
It is an absolutely monstrous book, and if you'd met Killoffer, sweetly teaching Norwegians just enough French to say "Killoffer is very beautiful," you couldn't quite imagine this awful, disturbing thing emanating from that warm, friendly man. But his control of the storytelling flow and the page is phenomenal.
And for no reason I've just been reminded of one of my favourite French comics magazine covers:
These are the three founders of the magazine. On the cover of their own magazine. 1974. I just love that in 1974 there was a comic whose cover was just a painting of the three founders looking this fucking cool (especially Claire Bretecher).
All of which is probably because in the back of my head I wanted to mention that IDW have been releasing new editions of Hugo Pratt's CORTO MALTESE books:
And, while they can be deeply peculiar and very much of their time, like Herge, they still retain marvellous instruction in the use of the medium. Pratt, working on the larger Euro page, locks himself into a 12-panel grid for the most part. Here's the thing about a consistent use of a grid, that's been kind of forgotten over the years. You use it when you want the panelling to become invisible.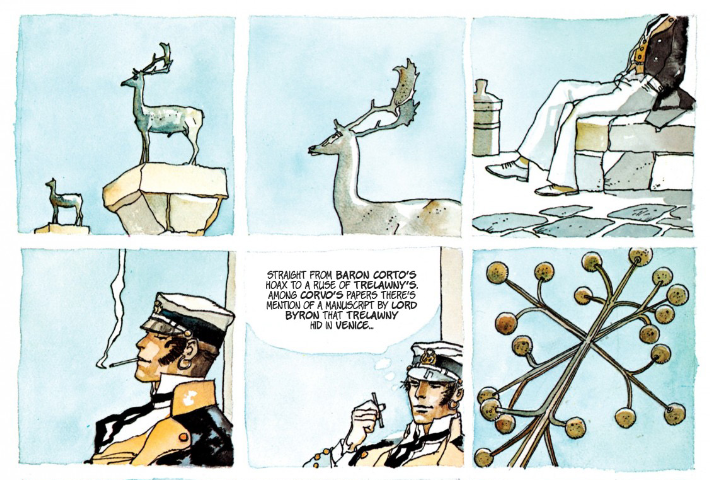 It is, in fact, the equivalent of using "said" in prose. We use "said" because we want the instruction to become invisible, for you to live inside the speech. To replace "said" with "bellowed" or "farted" or "wept" tilts the sentence towards the author. Regular unbroken consistent grid panelling stops you looking at the structure and has you simply focus on the words and pictures.
And old Killoffer up there takes the panel borders away entirely and has you slip and slide through the page. Two different ways of achieving the same thing.
Which I think Eddie Campbell understood from the start:
(I wrote this ramble on my newsletter in 2018 and wanted to preserve it here as I revisit my thinking.)
I came across this photo from the forthcoming MOON KNIGHT streaming show the other day:
I invented the "white suit" Moon Knight visual with artist Michael Lark on an issue of SECRET AVENGERS, which I later redeveloped into the "Mr. Knight" persona with a look evolved by Declan Shalvey and Jordie Bellaire on our 2016 MOON KNIGHT run. Which appears to be out of print, but still available on Kindle (UK) (US).
The photo here is clearly the Declan look.
(Incldentally, on that run Jordie made one of the most intelligent and brave choices I've ever seen a colour artist make on a mainstream comic – she took all the colour off Moon Knight himself. That might seem a minor thing to you, but, if you have access to that run, take another look at those pages.) This was a really weird thing to trip over this week. That's Dec's design and, it feels, even his shading and folds.
I still have fond memories of those six issues of MOON KNIGHT, not least because I got to do a rare personal thing within the work. It was, on one level, a tribute. Each of those six issues has a thematic link back to an episode of the original run by writer Doug Moench. Doug Moench created Moon Knight with artist Don Perlin for an issue of WEREWOLF BY NIGHT in 1979, and reconceived the character in a more heroic tone in a series of stories in the Marvel magazine-size anthologies of the period, Hulk Magazine and Marvel Preview. The artist for these was Bill Sienkiewicz, and, after forming a working partnership to evolve the character, they got to do Moon Knight as a monthly book. They did, I think, about thirty issues together. Sienkiewicz moved on, and Moench did a few issues with a new young artist before moving on himself a few months later. That new artist, by the way, doesn't have a huge body of work, but it's a very influential one. That artist is called Kevin Nowlan, and if you compare his early work to the early work of Jim Lee, you'll probably see the connection. It was a personal pleasure when Kevin inked Bryan on our THE BATMAN'S GRAVE.
Doug Moench was one of the very few American comics writers I read regularly in my teens. For a guy who wrote adventure comics, his style was gloriously eccentric. He was clearly intelligent and cultured — he read like someone who'd done time in music journalism, someone who loved space rock as much as he loved James Bond. And, more than once in his career, he did things that really made you wonder what would have happened if someone had let Dennis Hopper make a Bond film. He could be prolix, but in a glorious way, and he could land a great short line right on a beat like very few others.
If you're not aware of his work, you should do a bit of reading. He has a very odd comics career. In line with the more interesting writers of his period, he took the roads less travelled so he could have fun without people getting on his case. Take a look at this, from, I swear to god, his residency on the PLANET OF THE APES comic in the 70s:
(Art there is by the magnificent Tom Sutton)
He was a writer of his time, which meant he had the constraints of the time, not the least of which was "all sound effects, all the time." But, being the kind of writer he was, he thought about sound effects A Lot. This was a writer who clearly spent hours generating new and correct onomatopoeia for the sound of a window breaking or the sound of a key being turned in a lock. It may seem like a minor and even silly thing, but it denotes a writer who put serious thought into every aspect of the form of the time. The Marvel-style method did not allow for a writer to lead the page structure, for example, and in my first issue of Moon Knight I absolutely emulated the way he'd string a monologue across a large panel or full-page picture to enhance the pacing of the piece.
And, in fact, when he chose not to do that. Here's the thing: a writer of his wordy style, immersed in the forms and tropes of the time, could still teach me to respect the artist as co-storyteller and as artist. A different writer of that time would have put two hundred words on that page. The page after this, in fact, is completely silent.
I remember his work into the late 80s of being slightly ahead of its time – MOON KNIGHT 26, "Hit It", was probably the fullest collaboration between Moench and Sienkiewicz and reaches for a language of superhero comics that didn't quite exist yet — and I suspect most people who entered the medium afterwards aren't aware of their debt to him in creating new spaces and giving permission for new approaches in commercial comics.
Pretty sure the colour on these is by Christie Scheele, by the way. Again, Scheele was constrained by the demands of the commercial form of the time, as well as by the extremely, almost absurdly limited tools at her disposal. Christie Scheele moved on from comics to become an important American landscape artist. Check out her website.
I've never spoken to Doug Moench. But I couldn't do Moon Knight without finding some way to acknowledge his primacy as creator, or finding some small way to say thank you for the pleasure of reading his work. As I say. every episode of my Moon Knight was directly inspired by one of his.
All of which is to say, it's nice to see Mr. Knight in the flesh, as it were, but I hope that show makes Mr. Moench's name nice and big in the credits.
(An earlier version of this piece appeared in my weekly newsletter, Orbital Operations)
And, if it were up to me, per the previous chronological post, I'd either be working on some kind of self-hosted webcomic or I'd be on Panel Syndicate, both of which look like viable futures to me, and I'd be breaking every rule I could think of and experimenting as much as time and brain allowed. Because experimentation and trying as many new things as possible is both what is required, and what we're here for.
If I'd had artists who wanted to draw my stuff and also hated money or had no need of food and shelter I'd have moved into Panel Syndicate years ago, and I'd be even more obscure than I am now, and very happy. But it turns out artists need protein, water and electricity. Some of them even wear people clothes. I mean, who knew?
Pulling this out of last weekend's newsletter, because it might be useful to someone:
Last week, I was musing about emulators for the Webtoon/Tapas style of vertical scroll webcomics, for those people who didn't want to be part of those sites' ecologies and just wanted to work in that form self-hosted or elsewhere.
First off, there is Toocheke, which is a WordPress plug-in for webcomics. The basic plug-in is free, and there's a premium version (at a fairly eye-stinging $79) that gives you Patreon and e-commerce tie-ins and other things.  But the basic plug-in should be all you need, if you want to explore mobile-ready vertical-scroll comics.
Secondly, I got an email from one Matheus Teixeira:
In the last issue of Orbital Operations you kinda of sent a call to action…
Well, it sparked my curiosity as a developer and I tried to make a very simple and raw version of the idea, with the purpose of making it as easy as possible for anyone to run it.
Basically it's a HTML template generator optimized for displaying vertical images with some navigational stuff appended to it (an auto-generated index and previous/next issue links), it's all controlled via a simple manifest file and them generated with a single command line.
The result are very simple HTML pages that I think will be a great starting point (they are already "production ready"), but it gives space for the customization part of it the person using it wants to make it look more personal.
It was a fun little project to make! Thanks for the inspiration.
Here is the GitHub URL: https://github.com/matheusteixeira/verticellis
Which I consider a heroic response. Thanks so much for putting this out into the world, Matheus.
(Do not write to me and ask me how to use it, please. I stopped understanding web coding when CSS happened.)
Live right now on Panel Syndicate – 30 pages, pay what you want. Here's a preview.
I've read it. It's very good, and completely beautiful. Career-best work from Marcos, which is saying something, and astonishing colour work by Muntsa Vicente.
From the creators of one of my current favourite series, ICE CREAM MAN, comes https://www.quarantinecomix.com/ – short PDF comics sold to support the Book Industry Charitable Foundation.