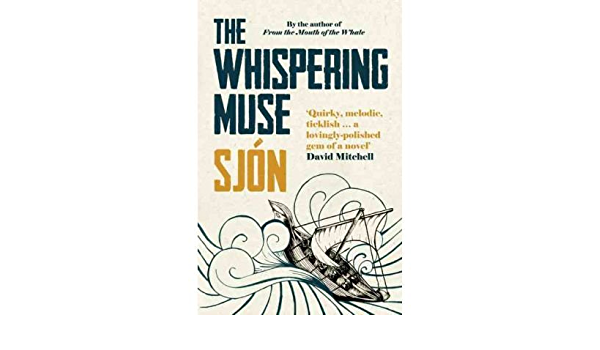 I noticed last month that I have a few different Sjon books in the pile. Apparently I started reading this and didn't finish it. So I started again at the beginning.
Before embarking on his tales the mate had the habit of drawing a rotten chip of wood from his pocket and holding it to his right ear like a telephone receiver. He would listen to the chip for a minute or two, closing his eyes as if asleep, while under his eyelids his pupils quivered to and fro.
THE WHISPERING MUSE is a story about storytelling: about myth and legend, fish and culture.
To try and describe the affect, I'm going to be basic and crass and do an injustice to the work, but: tonally, it has the archness, historicity, unreliability and louche, slightly evil air of THE GRAND BUDAPEST HOTEL. Completely unfair, but maybe you can see where I'm leading you here.
"I was thinking: could the voice you detect in the humming of the wood be your own voice? Like the poet who obstinately believes that he is writing about the world but is in reality only telling yet another story about himself?' The idea was not entirely my own. My brother-in-law, the psychiatrist Dr Pázmány, had said something similar when the invisible people moved in with me during the winter of 1910–11."
The extremely dubious narrator is the publisher and principal author of the journal Fisk Og Kultur, which presents a faintly Aryan argument that the Nordic race is the superior race because they eat lots of fish. The story revolves around the narrator, in his old age, being sent on a sea trip by his patron, a local shipping magnate – and the ship's first mate, who, every night, tells in chapters a tale of Jason and the Argonauts. He tells this story after listening to a splinter of wood, which he insists is a piece of the Argo's bow – and that he himself sailed on the Argo with Jason. The myth is the spine of the piece, weaving in and out of the man's life and experiences on the boat. Myth rises like a tide and laps over events. Sometimes it washes away dissembling and reveals true character. The ending is unexpected and stunning. And funny. And, in the aftermath, unsettling. It's a more complex book than it seems.
I've read Sjon before, but this book convinced me that I haven't read enough.
THE WHISPERING MUSE, Sjon, trans. Victoria Cribb (learn more)